Just a notice that I will be unavailable for sessions while I am on vacation from July 27th through August 3rd.
Every year, I escape to the Middle Ages for a week or two at an annual event called "The Pennsic War" with over 10,000 attendees. I'm an avid amatuer historian and love learning and DOING history!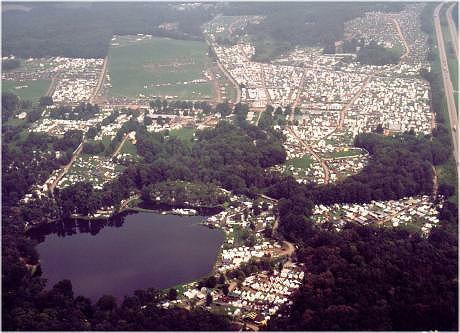 (an aerial veiw of most of the encampment)
A week long camping event with other like-minded individuals allows me to learn even more about a myriad of topics. A lot of my vacations are educational, you'll find. As I really like to immerse myself in the experience, I have been remiss in capturing the breadth of this unique event, and tend to eschew any modern implements. No phone, no computers, no electricity, no cameras…it's truly freeing.
This year I'll be bringing a new friend who loves to take pictures, so expect plenty of great photos of where I go every year. The classes, the drinking, the parties, the music…it's truly something I look forward to every year. Expect a lengthy blog post upon my return with plenty of photos!
Keep Playing,
Miss Kelle