I have been swamped the past couple weeks! Not only having some long and very satisfying sessions, but I moved too! Moving is hell, so I'm glad it's over with. Don't worry! I didn't move away, just closer to school!
Finals begin next week, then Summer freedom! Though this quarter hasn't been too bad, I did get to act out one of my favorite fantasies last night at Wicked Eden: Seducing a teacher. I was the bratty student who had all of the boys in the school wrapped around my finger, including all the teachers – but one. I just had to show him who really was boss–with my favorite strap on. I just love having a wonderful place to realize all of my fantasies!
So at my new place I have a new room for my webcam fun-time, which is now painted a sexy shade of purple(close to my old room, but much better). It's not decorated yet, but I'm working on it. Besides, does it really need more than little ol' me to decorate it?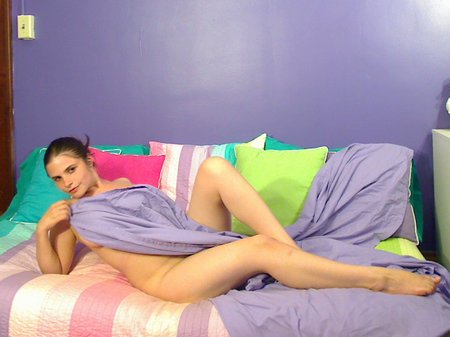 Nope, didn't think so. I bet you didn't even notice there was a light switch in the photo.