I probably get this one 3X times a day…or more.
"Please Miss Kelle can you make me eat my cum?"
The problem is this isn't a yes or no question. Unless you are physically in front of me, I can't "make" you do anything. Can I persuade you? All signs point to yes. First, because you are already asking, you obviously already want to.
1. Get horny as hell.
Whether it's watching me tease the ever loving fuck out of you on webcam, or watching whatever porn floats your boat, get really horny. Don't bust it yet. Hold out, edge yourself. You need to really want it.
2. Get in position.
If you're a novice, it's best to get as little distance as possible between you and your cum. Assume the position.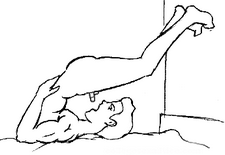 Stretch first. Get it as close as you can to your mouth. Open wide! That way there's only one step! You don't have to lick it off of anything. Cum straight in the mouth. No going back. If you miss, you still look ridiculous. Try better next time.
Give me a call when I'm online and let's work through this together!